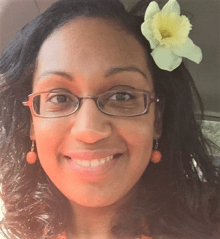 Dr. Fazeeda Abdur-Rahman is the founder and owner of Vibrant Women's Wellness Counseling (VWWC). Due to her love for women's health and belief that mental, physical, and spiritual health factors should be incorporated into treatment provided to women, she began VWWC to foster professionals of varying backgrounds to work together to provide holistic care.
At Vibrant Women, Dr. Abdur-Rahman oversees the day to day functions and is also a practicing therapist. Her area of expertise includes women's wellness, particularly utilizing complementary alternative treatments of yoga and Christian based spirituality with conventional psychotherapy. Dr. Abdur-Rahman is passionate about helping women to overcome trauma and other negative effects on women's well-being, so that women can become the best they can be and experience fullness and joy in their lives.
Dr. Abdur-Rahman's education includes doctorate and master's level training in social work, with a concentration in mental health and bachelor's level training in psychology. She received degrees from Fordham University Graduate School of Social Services, Howard University, and York College (City University of New York) respectively. She strives to use the training she has received in life and through educational attainment to share the love and grace of God in her work.
In addition to her work at Vibrant Women, she is also an Adjunct Assistant Professor with City University of New York, New York Institute of Technology, and Walden University, where she teaches courses in social work and psychology.