Are you looking for women's anxiety support groups in the
Queens, Brooklyn, Manhattan area near you?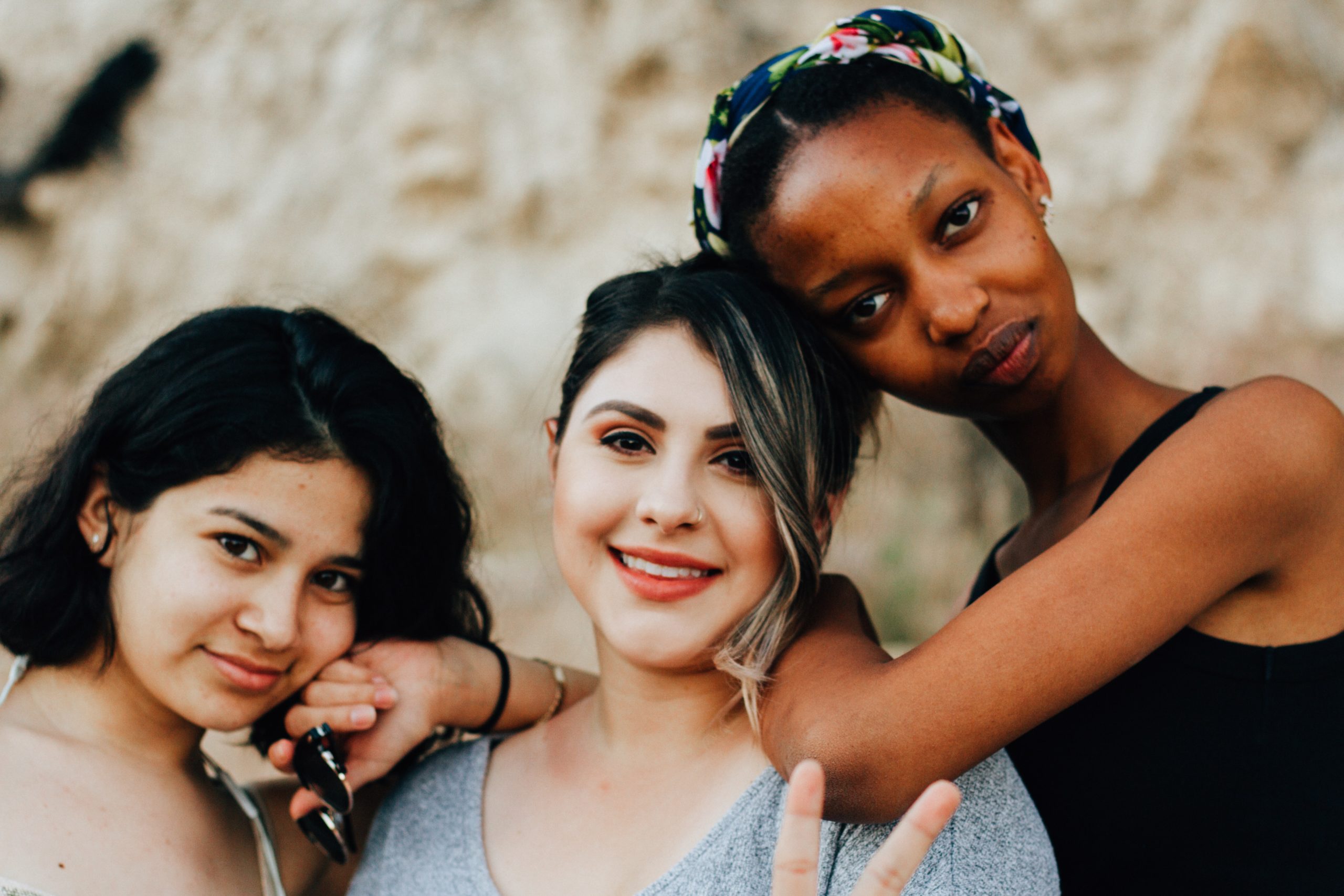 Group Therapy at Vibrant Women Wellness in New York City allows women to receive support and encouragement, and provides an outlet for women to
connect with other members who are facing similar struggles.
You may join our relationship counseling groups or support groups which could help you to cope with post traumatic stress, low self esteem, panic attacks, parenting issues, depression and mood disorders. During these trying times of Covid-19, our team of professional therapists are safe and well and helping our clients via phone and virtual / online video conferencing group sessions.
In each of the groups, women are given the opportunity to share their feelings and experiences, which may help to relieve emotional pain, social anxieties, guilt, or stress. Members can also share their strengths and help others in the group, which can boost their self-esteem and confidence. A member of the group that observes someone successfully cope with a problem, can feel hope for their own growth as well as for their situation changing.
Presently, we have the following groups that are open for enrollment.
If groups are full when you contact us,
let us know if you would like us to add you to our waitlist.
Our groups consist of at minimum four people and at most 8 participants at a time, in addition to a therapist (and co-facilitator), and meets once per week for an hour and a half.
Information discussed in groups is confidential,
unless someone indicates an intent to harm themselves or others.
The role of mother can be a challenging one. As a mother, having a network with other moms that you can get advice and support from is an encouraging factor for mothers.  And, as the world has been going through many changes, it is even more necessary to help keep your well-being in mind. If you would like to receive support in your role and learn strategies that can help you be a better mom, this is the group for you. The group will discuss factors influencing why and how you parent in the way you do, discuss reasons for children's misbehavior, and strategies to help you manage feelings of frustration, as well as how to increase the likelihood of getting the behavior you desire.
Have you thought about joining a mom support group in New York; where you can vent, laugh, lean on and connect with other parents? The good news is that there are other parents who are experiencing similar issues and challenges raising one or more children. Vibrant Women Wellness currently offers two different parenting groups:  
Moms of elementary age children: k- 8th grade 

Moms of teenagers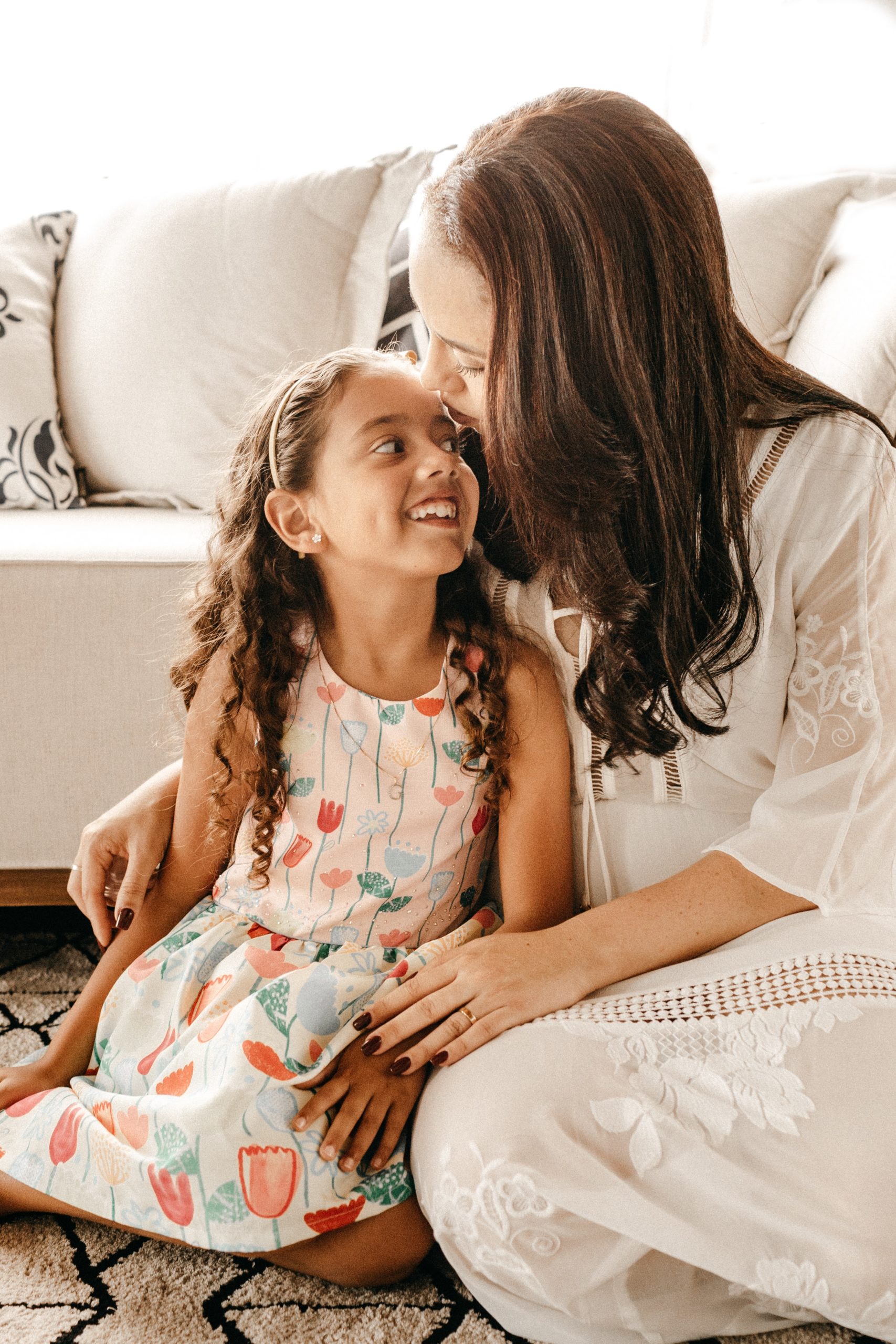 ---
To me it is always important to connect with other women, especially mothers. It is empowering and validating to know that you are not alone in your struggles and it is nice to share stories, ideas, and perspectives.
---
Mom to mom sessions were very insightful. Dr. Fazeeda Rahman helped me redirect the way I was parenting: it was a blessing!
---
Coping with Anxiety Relief Group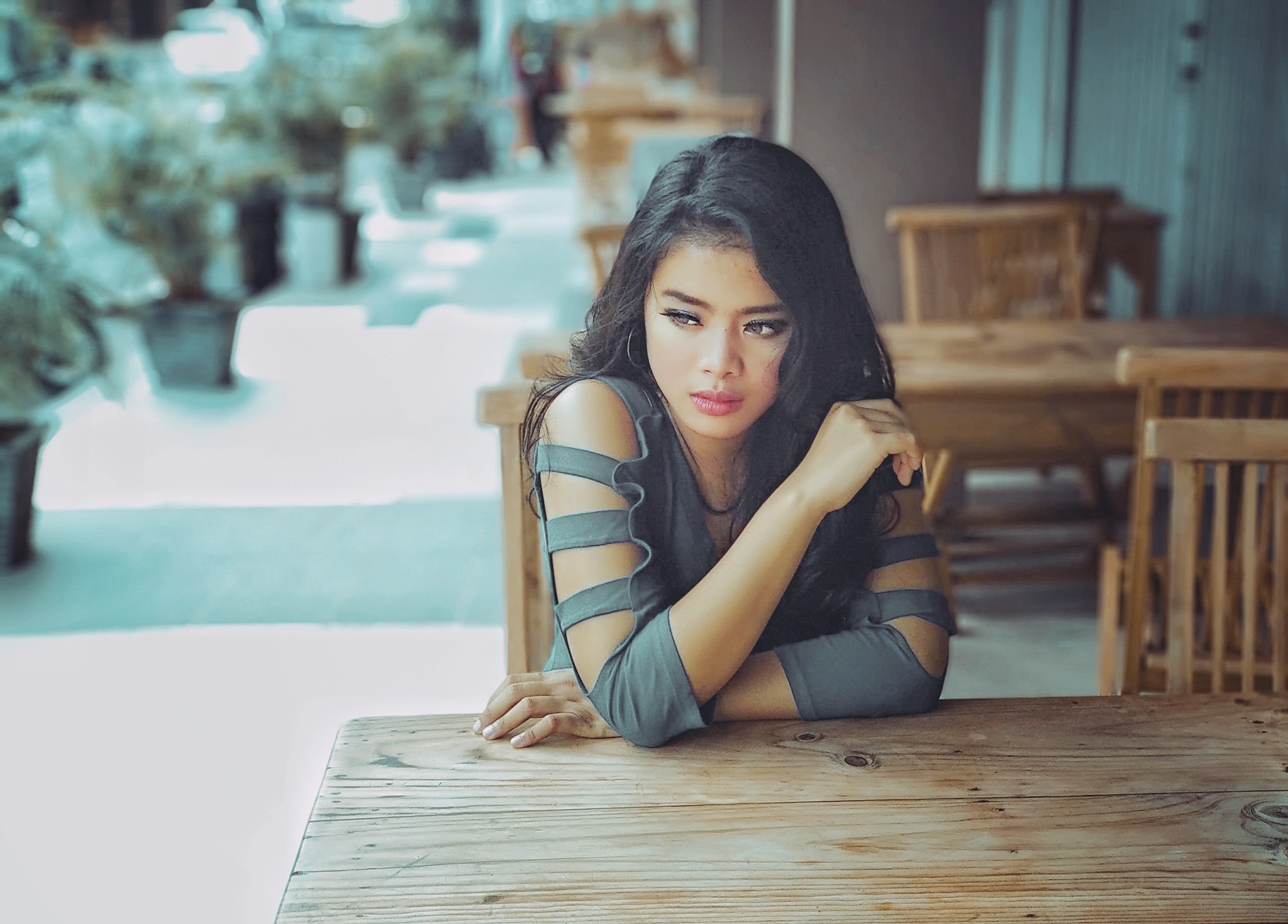 ---
Dealing with anxiety can be overwhelming. Worry or fear over situations, relationships with family or friends, change in environment or circumstances may cause physical symptoms or inability to function appropriately at work or interfere with other parts of your life.
In addition to therapy, a recommended practice useful in managing anxiety is to attend anxiety group therapy sessions, which involves listening to others who know what it feels like to suffer from extreme anxious feelings (panic attacks) hopelessness, or ruminating thoughts. By joining in this group, our practitioners aim to further empower you to practice coping strategies, overcome feelings of anxiety and gain more control of your emotions.
Join us as we move bravely into the future,
no longer burdened by anxieties.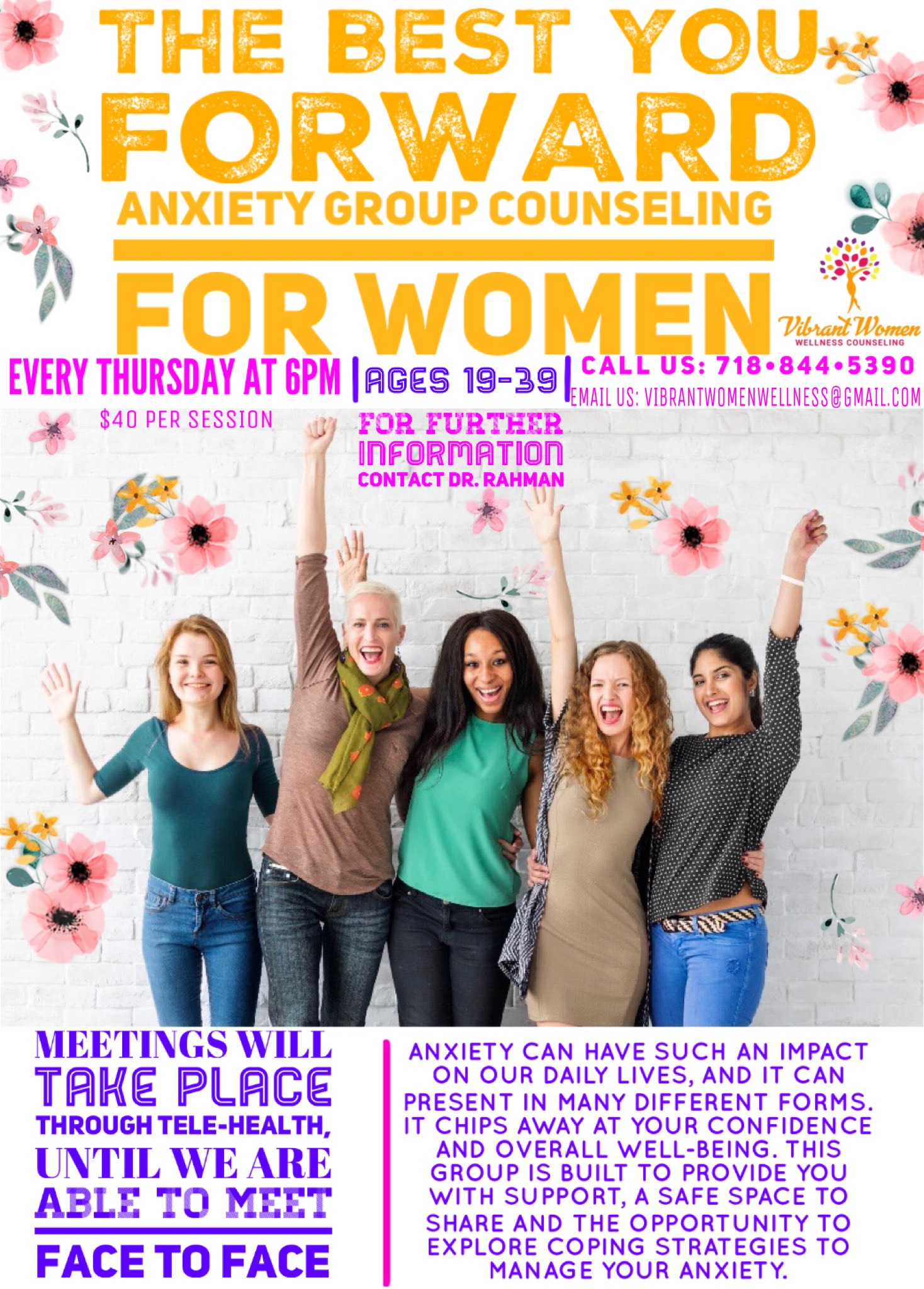 ---
Are you looking for confidence boosting and self-esteem counseling group therapy in New York? Our mental health support groups in NYC can help you to realize others may have similar thoughts about themselves.
While we may practice activities and techniques used to increase your self-esteem and self worth during our counseling sessions, Vibrant Women Wellness support groups may also play an important role. Our group can help with self-improvement, self-empowerment, self-exploration and personal development.
Each group session is typically started with an educational element read by the therapist facilitator. Each group session could have a certain topic for the group members to discuss, explore and share their feelings, issues, grievances and experiences. Topics may range from support systems, the consequences of low self esteem, challenging negative beliefs about yourself, and more. Vibrant Women Wellness' NYC self esteem support group program is designed to allow members to grow and learn together.
---
I realized how important it is to have compassion on myself. I would definitely recommend the group to anyone with low self-esteem. I would recommend participants using strategies given, not just in group, but in general. I really liked Teena's input, presence, and her way of guiding the group. I also liked how Saradjine rephrased the things that were said to make sure she understood participants points.
---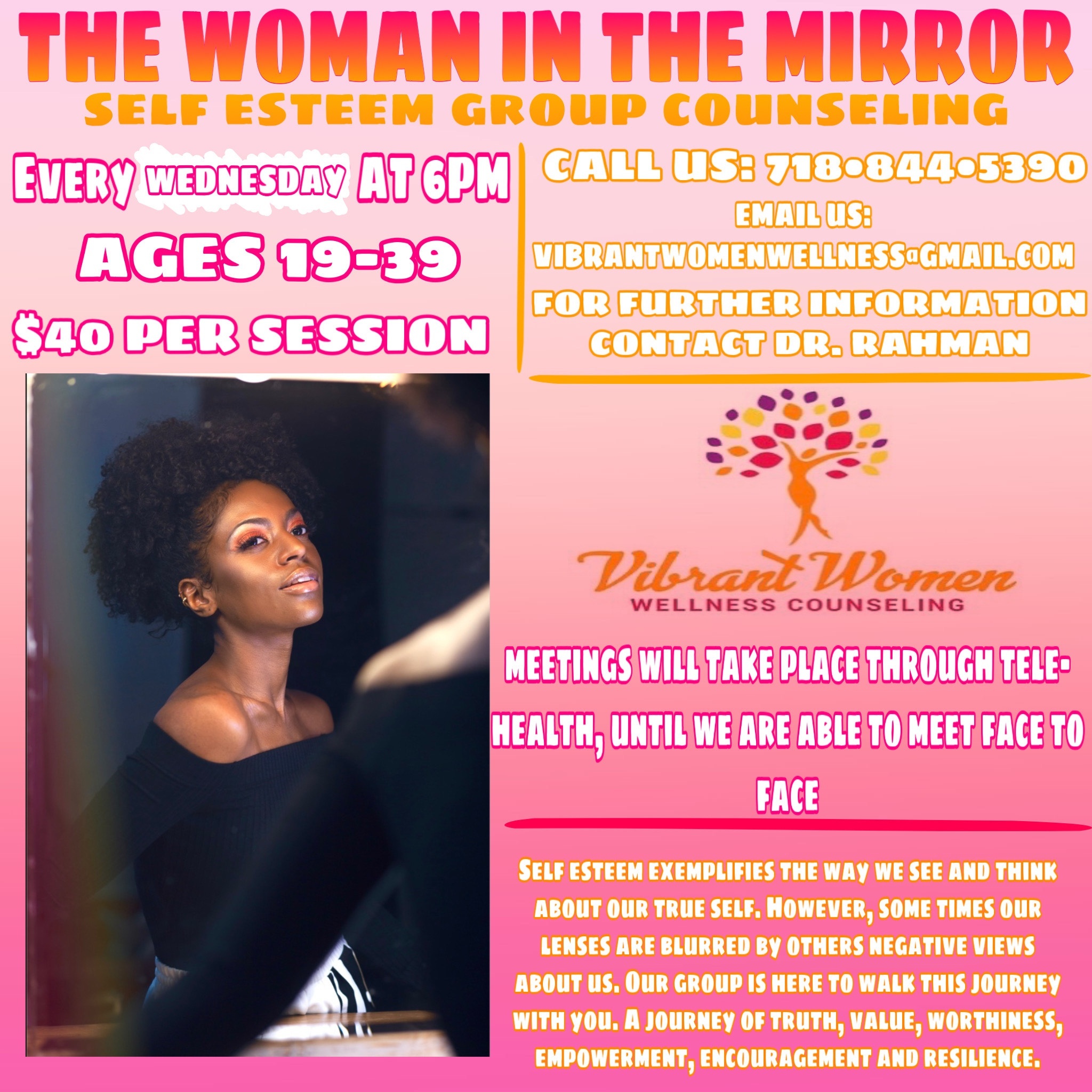 ---
I thought that the group really helped me grow more confident in myself. It was helpful to hear from other women who are around my age who are going through similar self-confidence issues. Through their experiences, I learned a lot about myself. I liked the open dialogue that this group allowed and that we tied the concept of faith in self-confidence. I liked the re-framing exercise that we did. It helped to have a guideline on how to re-frame the negative self-talk that occurs. I also liked the sharing of scripture verses.
Our groups are fun, safe and strictly no-judgement zones, and venting is encouraged!
We look forward to meeting you and having you join our groups which serve women in all of New York's 5 boroughs including
Manhattan, Bronx, Queens, Brooklyn, and Staten Island.
Benefits of being part of our community: Ask us about our book clubs.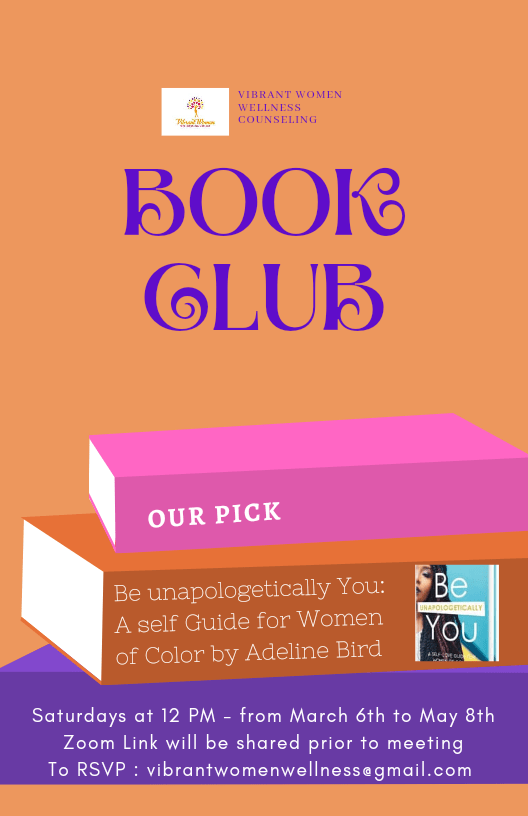 Connect with others who are aspiring to develop their confidence. Free for current members. $15 for non members.